Enviro Cone, 28" Lime w/Base, (1) 6" & (1) 4" 3M Reflective Collars, 10lbs.
28" Lime Enviro-Cone with (1) 4" & (1) 6" High Intensity Prismatic Collars and 10lb. Recycled Rubber Base from TrafFix Devices, Inc.
The Enviro-Cone is the future of traffic cones: MUTCD Compliant, 80% recycled by weight, and can easily be recycled again if the cone is damaged or destroyed. This saves you money and helps to keep more plastic from entering our landfills. If a cone stem becomes unusable, simply reorder the stem and reuse the base, no need to buy the entire cone again!
The Enviro-Cone is manufactured from low density polyethylene, this provides superior cold weather performance and increases the life span of the Enviro-Cone when compared to traditional PVC Cones. The Enviro-Cone resists cracking and shattering down to -45°F (-42.78°C); and even under the hottest conditions, the Enviro-Cone stands tall and vertical in temperatures as high as 180°F (82.23°C); no more soft and droopy cones in hot weather! The Enviro-Cone provides long term durability with excellent color retention through the use of UV stabilizers and low density polyethylene plastic. With more than 50% of the Enviro-Cone being made of recycled materials by weight, it qualifies for Green Points.
With its patented Easy Grip Groove handle, the Enviro-Cone provides excellent "gription" for quick deployment and retrieval. This grove makes tying off caution tape a breeze and is 100% compatible with the TrafFix Retractable Cone Bar.
Visibility on the roadway is an important feature of any traffic safety cone, and the Enviro-Cone has broader surface area for cones of similar height and weight. The wide-body construction of the Enviro-Cone has 42% greater target value than Slim Line Cones during daylight hours, and 34% at night. This design increases visibility without increasing the weight of the cone. A larger cone is a greater "threat" to drivers and represents potential damage to their car. With this greater visibility, the driver has more time to slow down and avoid a collision, which saves lives and prevents damage to the workzone.
Every day, millions of traffic cones are used in construction and work zones around the globe. In windy conditions, these cones may blow over and need be put back into service by a work crew. Resetting these cones requires time in a potentially dangerous area and takes time away from getting the job done. Because of its revolutionary design, 80% of the weight of the Enviro-Cone is in its base. This gives the Enviro-Cone a lower center of gravity and thus a better tipping point compared to any 7 or 10lb (3.18 or 4.53 kg) PVC cone currently available on the market.
In 2015, the TrafFix Devices Engineering Team conducted a wind tunnel test to demonstrate that the Enviro-Cone was more stable in windy conditions than PVC cones of similar weight and size. The certified wind tunnel used for the testing is equipped with a 30' (9.14 m) wide propeller and can produce wind speeds up to 270 mph (434.5 km/h) in precise wind velocities. When tested against similar PVC cones, the Enviro-Cone was the decisive winner while the PVC cone was blown out of service.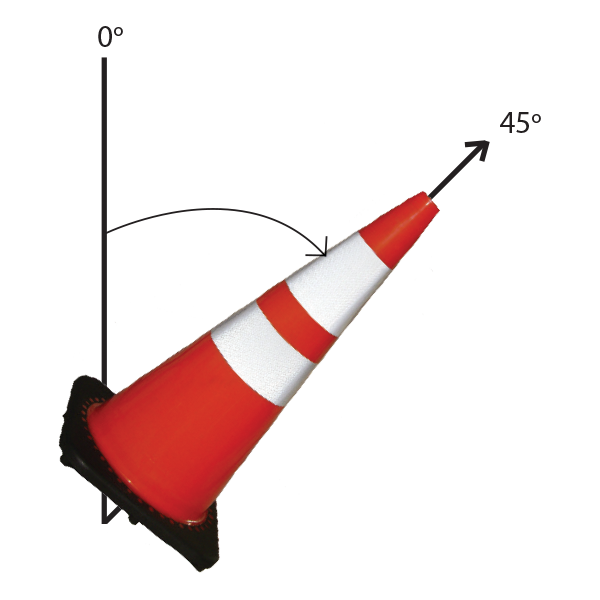 7 lb. PVC Cone
Angle

45°

Weight

7 lb. (3.18 kg)

Distribution

Base: 60%
Stem: 40%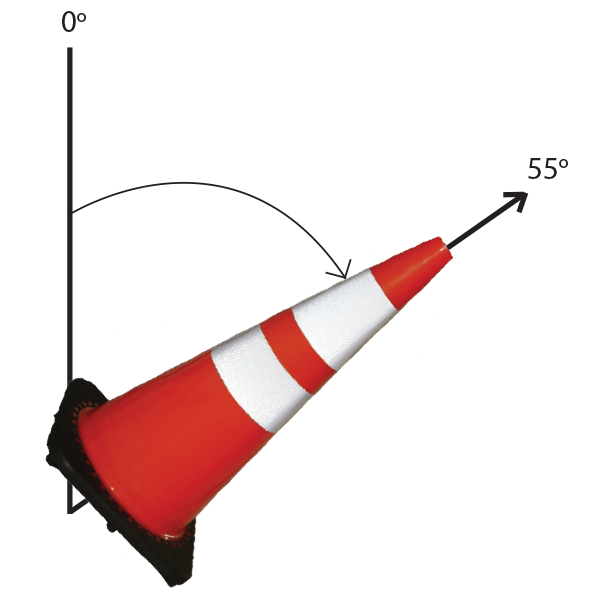 10 lb. PVC Cone
Angle

55°

Weight

10 lb. (4.54 kg)

Distribution

Base: 60%
Stem: 40%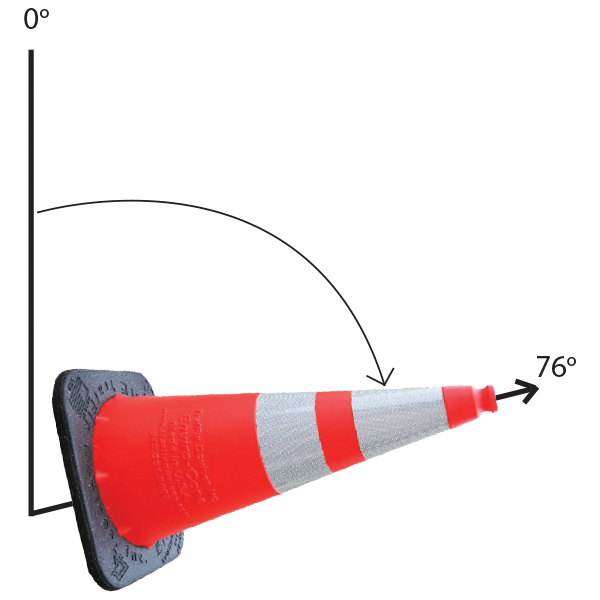 7 lb. Enviro-Cone
Angle

76°

Weight

7 lb. (3.18 kg)

Distribution

Base: 80%
Stem: 20%
More Information

| | |
| --- | --- |
| Weight (lbs.) | 11.000000 |
| UPC | 843574005633 |
| Material | Low Density Polyethylene, Recycled Rubber |
| Reflective Sheeting Material | 3M™ High Intensity Prismatic |
| Reflective Sheeting Size | (1) 6" & (1) 4" Reflective Collars |
| Reflective Sheeting Color/Pattern | Solid White |
| Base | 10 lb. Recycled Rubber Base |
| Color | Lime |